More than eighty years of know-how in one box: the WISKA installation box - our new KA series
Good ideas are born in more than one head - that is what we believe. For the development of the new WISKA installation boxes we have therefore worked closely with electricians. The result is the relaunch of our successful classic: An adapted design that offers a wide range of mounting options, a unique design allowing installations on uneven surfaces as well as our lid retaining clip. The new KA series convinces with its many features and is an original in every respect.
One series. Many benefits.
For our new installation box series we have talked to electricians about their needs to adapt the box to real installation requirements. And this is our solution.
Your benefits with our new WISKA installation box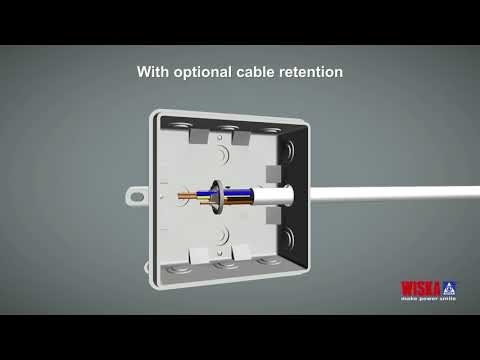 Connection-happy: The new WISKA installation box convinces with its versatile mounting options.
Sticks together: Two types of plastic are used in the KA series making for a very tight hold. The lid made from a more solid plastic (PP) sticks tight onto the base made of a softer plastic (PE).
Nothing will get lost here: The lid can be attached to the box so that it cannot be lost or fall down.
Colour-matched: To indicate different electric circuits or to make the box match with its surroundings the KA range comes in the following colours: Light grey, black, white, green, red
Improved. Functional. Versatile. - This makes our WISKA installation box a genuine original
Our fixing elements in detail
Our cable retention for added security
Our cable retention clamp is quick and easy to use, helping to secure your cables safely. Click here to find our variants.
Our three new installation boxes