WISKA is introducing a cable entry system especially designed for switchboard installations: CONMAXX®. The innovative 3-component modular system offers customers a whole new dimension of flexibility.
The CONMAXX® system consists of a closed frame, variable grid inserts and conical sealing elements. The three components can be compiled individually according to requirement and application, as if in a modular system.
Even subsequent, individual changes to the wiring are no problem – without any laborious opening and closing. CONMAXX® provides a better and easier solution to any installation requirement!
Your benefits with CONMAXX®
CONMAXX®: Three components – endless product variants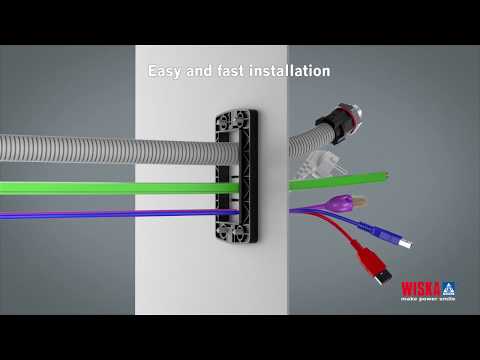 About 100 different seals, four frame sizes and different grid inserts enable extremely flexible and individual electrical installation. Even solutions for special cables, sleeves, as well as pre-fabricated cables and wires are no problem with CONMAXX®. The many possible combinations also reduce storage costs.
Watch our video and see for yourself the advantages of our CONMAXX® system!
Your possible combinations with our cable entry system
Here you can find examples of possible combinations of our CONMAXX® frames in all available sizes.
1. CONMAXX® Frame
2. CONMAXX® Grid
Different grid inserts can be pushed into the frame individually and thereby offer highest flexibility in cable entry. No matter if small or big cables – CONMAXX® Grid make for an easy and fast installation and later adaption of cables.
3. CONMAXX® Seal
No matter if you have a big or small cable diameter – CONMAXX® offers the fitting sealing element for your needs. Thanks to its unique conically shaped design CONMAXX® seals ensure the high protection class of IP 66.
Our products of the CONMAXX® series