Our COMBI Series: The junction box for inside and outside applications
With their unique design and highest quality, they have met the most demanding installer requirements for years: The COMBI junction box series is an original in every aspect.
Features of the series at a glance: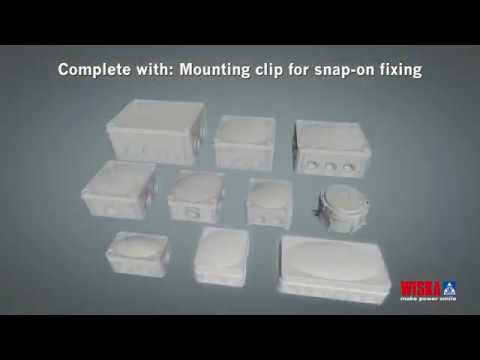 High-quality material of the COMBI junction boxes is UV- and Ozone resistant, therefore suitable for inside as well as outside installations
Bellied cover allows 10% more installation space
High protection class IP66. With cable gland even IP67
Captive and rust-free quick-release lid screws, closing of the box with only a quarter turn (COMBI 206, 308, 407, 607, 1010, 1210, 1610)
Self-sealing membranes on the rear enable a clean assembly for cable outputs from the wall (COMBI 108, 206, 407, 607, 1210)
Has what it takes: flame-retardant and halogen-free, weather-proof, resistant to ultraviolet, shatter proof, impact-resistant
Product News
Interactive COMBI Series
Our digital leaflet bundles all interactive content about our COMBI Series in a compact design. Pages will come to life with 3D models, videos and animations.
Click here to have a look.
Cable Entries
The COMBI junction boxes offer unique flexibility in their cable entries. Click here for more details.
Accessories
The use of the COMBI junction box series can be optimised with some accessories. Click here to see our products.
Variants
For special applications we offer particular version of our COMBI junction box series.
Link to the product data